Theft Protection – Mobile


In the United States, a vehicle is stolen every 44 seconds according to the National Highway Safety Administration (NHTSA). This innovative system provides you with benefits in the event your vehicle is stolen.

Only 54% of stolen vehicles are actually recovered. You substantially decrease your odds of theft by arming your vehicle with anti-theft and vehicle tracking devices. Protecting your investment with anti-theft etching will give you peace of mind as well as increase the likelihood of your vehicle being recovered should it fall into the wrong hands.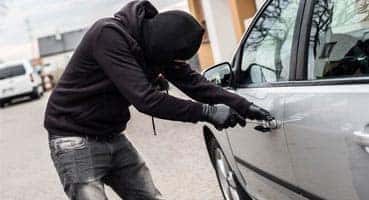 Stolen vehicles on the rise
Gone are the days of hot-wiring to steal your vehicle. Car thieves across the country are now using technology to achieve their goals. Transponders and smart key replication are real issues now facing automotive manufactures and law enforcement. According to the FBI Vehicle Theft data in conjunction with National Insurance Crime Bureau (NICB) "Hot Spots" Metropolitan and Metropolitan Statistical Area: St. Louis, MO-IL.
---
How this coverage helps you?
Theft Protection is a theft deterrent and recovery system that helps recover your vehicle by placing invisible etching throughout your vehicle. This marks your vehicle with traceable and tamper resistant technology that law enforcement agencies can see.


Drivers Needs Analysis
Your vehicle is protected with a unique etching number on all glass surfaces which in turn makes it worthless to thieves and acts as a major deterrent. If your vehicle is stolen this will aid in quicker recovery.